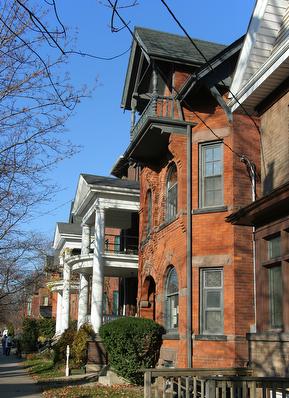 Helping you is what we do!


Contact me today and put my expertise to work for you an learn more about these steps in your home purchase:
Financing
Needs and Wants
Home Search
Viewing Homes
Making an Offer
Closing

Finding the right agent
You want to find the right home, in the right location, at the right price - and you want to do it quickly, with minimum hassle. The best way to do that is to work with a professional realtor who understands your wants and needs, your time frame and your financial boundaries.

Why work with me?




You'll save time. I can pinpoint homes that fit your needs and dismiss those that don't.
You benefit from an experienced negotiator. I will manage your offers and counter-offers, ensuring that you get the best possible price for your home.
You'll get the right information. I know the neighbourhood and can give you accurate information on local real estate values, taxes, utility costs, services and amenities.
You can always count on great advice. Because I am familiar with the entire home purchasing process, I can advise you of your legal and financial options, and recommend appraisal, home inspection and contracting services.
Choose an agent who understands your needs !
I will be representing your interests.
I will provide market evidence to support the price.
I will look after closing and possession details.
You can contact me at any time.
Qualifying for a mortgage
I can arrange to have you pre-qualified for a mortgage before you start shopping for a home. It's easy, and you'll avoid possible disappointments down the road if you fall in love with a place, then find out you can't afford it. Plus, once you do find the perfect home, it will mean you can make an offer immediately.

Here's how mortgage approval works: the amount of money you qualify for, plus the amount of cash you can put down equals the amount you can afford to spend on a home. Most lending institutions won't allow more than about 30% of your income to support a mortgage. If you have other debts, they usually won't allow your debts and your mortgage to exceed 40% of your income.



Choosing a neighbourhood
You're not just buying a home - you're buying a location. And even the most perfect house won't feel right if you're in the wrong neighbourhood. Educate yourself about the area so you'll choose wisely - and end up being happy with your decision.
Are you close to shopping and recreation? Being close to stores, parks, recreational facilities, a post office and dry cleaners will save you time.
Do people in the area take care of their homes? Explore the neighbourhood, keeping an eye out for signs of neglect (overgrown lawns, houses in need of paint, trash and junked appliances littering yards). A run-down neighbourhood can drive down your property value.
Are there schools nearby? If you have children, the proximity and quality of schools is key. Some schools will provide data (i.e. average test scores) that can determine quality. Talking to neighbours with children can be helpful, too.
Is there good access to transportation? Living near public transport and/or major highways can mean an easier commute to work.
Is it safe? Check with the local police department - they may be able to provide statistics about break-ins or other crimes.
Will the home increase in value over time? Homes in some neighbourhoods appreciate faster than others. Research the selling prices of homes in over the past decade or so to predict future trends. Your agent may be able to provide helpful data.
Is it quiet? Listen for traffic noise, barking dogs, airplanes and any other noises that might bother you. Return to the neighbourhood at different times of the day to get an accurate impression.
The elements of an offer
Here's a quick reference to everything you need to know about making an on offer on a property.

1. Price
Depends on the market and the buyers, but generally, the price offered is different from the asking price.

2. Deposit
Shows the buyer's good faith and will be applied against the purchase price of the home when the sale closes. I can advise you on a suitable amount to offer.

3. Terms
Includes the total price the buyer is offering as well as the financing details. The buyer may be arranging his/her own financing or may ask to assume your existing mortgage if you have an attractive rate.

4. Conditions
These might include "subject to home inspection," "subject to the buyer obtaining financing," or "subject to the sale of the purchaser's property."

5. Inclusions and exclusions
These may include appliances and certain fixtures or decorative items, such as window coverings or light fixtures.

6. Closing or possession date
Generally, the day the title of the property is transferred to the buyer and funds are received by the seller.


Protect yourself with a home inspection
That gorgeous house on the corner lot may look great, but it could be hiding all sorts of expensive, annoying problems, from a leaky roof to faulty wiring to a mouldy basement.

Make sure your home is solid and secure inside and out before you buy it. A home inspector will determine structural and mechanical soundness, identify problem areas, provide cost estimates for any work required, and generate a report. It's a great way to avoid headaches and costly problems that can turn a dream home into a money pit.

If you decide to go ahead and buy a home with issues that have been flagged by your inspector, you can base your offer on how much potential repairs and upgrades may cost.

Home inspection costs range according to size, age and location of the home.

I can recommend a reputable home inspection service or arrange for an inspector to visit your property.



Closing the deal
Closing day is the day you become the official owner of your home. However, the entire closing process usually takes a few days.

Typically, you visit your lawyer's office to review and sign documents relating to the mortgage, the property you are buying, the ownership of the property and the conditions of the purchase. Your lawyer will also ask you to bring a certified cheque to cover the closing costs and any other outstanding costs.

Once your mortgage and the deed for the property are officially recorded, you become the official owner of the property and your lawyer will call you to pick up the keys to your new home.



Determine what you can afford
Buying a home involves both one-time costs and more regular monthly expenses. It's important that you take both into account when you're figuring out how much you can spend on a home.

The largest one-time cost is the down payment, which usually represents upto 25% of the total price of the property. Then, in addition to the actual purchase price, there are a number of other expenses that you may be expected to pay for.

Typical One-Time Expenses
Mortgage application and appraisal fee (paid at time of application)
Appraisal fee (paid at inspection)
Property inspection (optional) (paid at closing)
Legal fees (paid at closing)
Legal disbursements (paid at closing)
Deed and/or mortgage registration (paid at closing)
Property survey (sometimes provided by seller) (paid at closing)
Land Transfer, Deed Tax or PropertyPurchase Tax (in Quebec within3 months following signing) (paid at closing)
Mortgage interest adjustment andtake over fee (if applicable) (paid at closing)
Adjustments for fuel, taxes, etc. (paid at closing)
Mortgage insurance (and application fee if applicable) (paid at closing)
Home and property insurance (paid at closing and on-going)
Connection charges for utilities such as gas, water and electricity (paid on date of move)
Moving expenses (paid on date of move)
Other costs may include landscaping, decorating, furnishings, appliances and repairs. Typical monthly costs include mortgage payments, maintenance, insurance, condo fees, property taxes and utilities.
Making an offer
When it comes time to make an offer, I will provide current market information and help you draft a suitable offer. I will then communicate the offer to the seller (or the seller's representative) on your behalf. Sometimes there may be more than one offer on a property coming in at the same time. Your agent will guide you through this process.

An Offer to Purchase*
An Offer to Purchase is a legal document which specifies the terms and conditions of your offer to purchase the home. The offer can be firm or conditional.

Firm Offer to Purchase: preferable to the seller because it means you are prepared to purchase the home without any conditions. If the offer is accepted, the home is yours.

Conditional Offer to Purchase: means that you have placed one or more conditions on the purchase, such as "subject to home inspection," "subject to financing" or "subject to sale of buyer's existing home." The home is not sold until all the conditions have been met.



Acceptance of the Offer
Your Offer to Purchase will be presented as soon as possible. The seller may accept the offer, reject it, or submit a counter-offer. The counter-offer may be in reference to the price, the closing date, or any number of variables. The offers can go back and forth until both parties have agreed or one of you ends the negotiations.



Understanding land transfer taxes
If you're buying a home you'll need to add land transfer taxes to your list of closing costs.

Ontario
Up to $55,000 X 0.5% of total property value
From $55,000 to $250,000 X 1% of total property value
From $250,000 to $400,000 X 1.5% of total property value
From $400,000 up X 2% of total property value




Understanding market conditions
The real estate market is always changing, and it helps to understand how market conditions can affect your position as a buyer.
I can provide you with info on current conditions and explain their impact on you.

Buyers' market
The supply of homes on the market exceeds demand.

Characteristics
High inventory of homes
Few buyers compared to availability
Homes on the market longer
Prices tend to drop
Implications
More time to look for a home
More negotiating leverage
Sellers' market
The number of buyers wanting homes exceeds the supply of homes on the market.
Characteristics
Smaller inventory of homes
Many buyers
Homes sell quickly
Prices usually increase
Implications
May have to pay more
Must make decisions quickly
Conditional offers may be rejected
Balanced market
The number of homes on the market is equal to the number of buyers.
Characteristics
Sellers accept reasonable offers
Homes sell within an acceptable time period
Prices generally stable
Implications
More relaxed atmosphere
Reasonable number of homes to choose from
Types of home ownership

What type of home is right for you?
There are three categories of home ownership:
freehold, condominium and cooperative.

Talk to me to find out which type will work best for your needs and your lifestyle.

Freehold
Freehold homes offer two significant benefits: freedom of choice and privacy. Since you own the structure and grounds, you're free to decorate and renovate whenever and whatever you want. However, all maintenance (indoors and out) is your responsibility - be prepared to spend time and money taking care of your home.

Condominiums
Condominiums are typically less expensive to own than a detached house. With a condo, you own (and are responsible for) the interior of your unit. Upkeep of the building and grounds is handled by the condominium association, which is funded by monthly fees collected from tenants. The down side? Condo residents enjoy less privacy than residents of detached homes, and often have to adhere to strict rules regarding noise, use of common areas, renovations, etc.

Cooperatives
Co-ops are like condominiums, except instead of owning your unit, you own a percentage of shares in the entire building. One drawback to living in a cooperative is that if you decide to sell your shares and move out, the co-op board has the right to reject your prospective buyer.



Title insurance explained
What is title insurance? Do you need it? Here's some information that can help you make an informed decision.

What does "title to property" mean?
Title is the legal term for ownership of property. Buyers want "good and marketable" title to a property. "Good title" means title appropriate for the buyer's purposes; "marketable title" means title the buyer can convey to someone else.

Why do I need title insurance?
Prior to closing, public records are searched to determine the previous ownership of the property, as well as prior dealings related to it. The search might reveal existing mortgages, liens for outstanding taxes, utility charges, etc., registered against the property. At closing, the buyer expects property that is free of such claims.

Sometimes problems regarding title are not discovered before closing. They can make the property less marketable when the buyer subsequently sells, and can cost money to fix. For example, the survey might have failed to show that a dock and boathouse built on a river adjoining a vacation property was built without permission. The buyer of the property could be out-of-pocket if he is later forced to remove the dock and boathouse. Or, the property might have been conveyed to a previous owner fraudulently, in which case there is the risk that the real owner may come forward at some point and demand their rights with respect to the property.

Who is protected with title insurance?
Title insurance policies can be issued in favour of a purchaser, a lender, or both. Lenders will sometimes require title insurance as a condition of making the loan. Title insurance protects purchasers and/or lenders against loss or damage sustained if a claim that is covered under the terms of the policy is made.

Types of risks that are usually covered include:
survey irregularities
forced removal of existing structures
claims due to fraud, forgery or duress
unregistered easements and rights-of-way
lack of pedestrian or vehicular access to the property
work orders
zoning
set back non-compliance or deficiencies, etc.
For a risk to be covered, it has to have existed as of the date of the policy. As with any type of insurance policy, certain types of risks might not be covered. For example, native land claims and environmental hazards are normally excluded. Be sure to talk to your lawyer about the types of risks that may not be included in your policy.
The insured purchaser is protected against actual loss or damage sustained up to the amount of the policy, which is based on the purchase price. As well, some policies have inflation coverage, which means that if the fair market value of the property increases, the policy amount will also increase.
How long will I be covered?
Title insurance remains in effect as long as the insured purchaser has title to the land. Some policies also protect those who received title as a result of the purchaser's death, or certain family members (e.g., a spouse or children) to whom the property may have been transferred for a nominal amount.
The premium for title insurance is paid once, at the time of purchase. In Canada, the purchaser generally pays for the title insurance, though there can be situations where the seller pays for it.
Protection and peace of mind
Title insurance can help ensure that a closing is not delayed due to defects in title. And if an issue arises, the title insurance covers the legal fees and expenses associated with defending the title and pays in the event of loss.